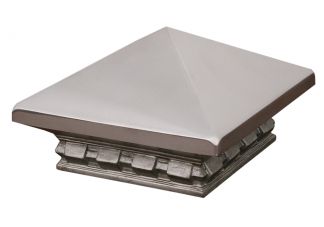 Discounted Post Caps
CLOSEOUT SALE!
BLOWOUT LIQUIDATION SALE...These slip-over post caps for wood posts are made of polystone, a synthetic mixture of plastic resin and stone powder that is very durable, long-lasting, and gives a beautiful stone-like appearance. The post caps listed below are made for standard 4 x 4 posts (actual factory cut is 3.5" x 3.5"). You will not be disappointed in this heavy-duty slip-over post cap that fastens to your wood post with outdoor epoxy. While browsing through these captivating post caps, you are sure to notice the weights ranging from 3.5 lbs. to 5 lbs. - an excellent reason to consider a sturdy, long-lasting polystone slip-over post cap. The inside diameter of all our post caps for wood posts are 3 5/8".
These post caps offer elegant simplicity along with the distinctive quality and durability that our company insists upon and you, as our customer, deserve. Use these slip-over post caps when you want an easy to install, nail-free look.
Slip-Over Post Cap Advantages:

Adds a finishing touch with an elegant appearance to any commercial or residential application
Protects and covers damaged wooden post split ends
Each post cap easily installs over your existing post(s)
Corrects and covers up all uneven milled cuts of your wooden or vinyl post(s)
Polystone textured stone-finished and metallic-finished post caps will not twist or warp like unsealed, incorrectly installed wooden alternatives
Post caps come standard with an extra 1/8" for ease of placing your cap on the fence post. For questions concerning our polystone post caps, please contact a customer service representative at 334.558.0863.