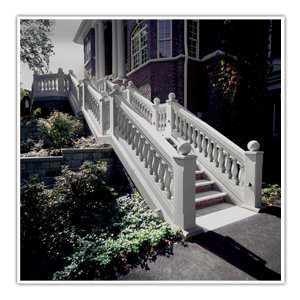 Post Caps and Finials give Great Curb Appeal

Having great curb appeal is important if you are purchasing or selling a home and what better way than starting with your fencing. Finials have been around for centuries, starting with the Greeks, who used stone to create these ornamental fixtures. They are a great way to spruce up your ordinary and mundane fences or gates and create more appeal. Post caps, like finials, add a classy touch and distinguish walkways, decks and arbors. They do serve an even greater purpose other than decoration. Post caps and finials provide protection from splitting and warping caused by wind, rain and sun and can be a deterrence against bug and insect infestation.
These days you can purchase post caps made out of various types of wood such as cedar and redwood also aluminum and copper. Finials can be made out of vinyl, cast iron and western red cedar. With a variety of selections to choose from it can be difficult to select what's best for your home. Here are just a few suggestions to help you decide.
If you want a more traditional style post cap, go with an island or Great Point post cap, these are simple and classic in design and give a craftsman finish to your fencing. Aluminum and steel post caps are a great way to finish off those white posts and gates of an entrance way or privacy fence. Copper post caps bring that old world style to your fencing or arbors. You can get a crown style like West Creek which covers the tip of the post cap or a bishop style like Cambridge that covers the entire top of the post cap. Add lighting and ambiance to your residential or commercial place with solar or a low voltage lighted post cap. These are ideal for outdoor parties and back yard barbecues.
Cast iron finials can bring that ornamental flavor of New Orleans and the Carolina's to a plain cast iron fence and jazz up a fence around a pool, but if traditional finials are more your style, you have a mixture of wood finials to select from that can be stained or painted just like the example in this photo. See how this Wonderful Life finial adds elegance and stature to this home. Vinyl finials and post caps are also available. Whatever post cap or finial you choose, you won't be disappointed in its function or style.