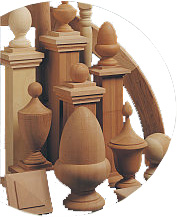 Post Caps are available in a wide variety of styles and sizes. Post caps can enhance most any post, providing elegance and a finishing touch to all types of fencing.
Post caps are usually made of redwood, cedar, or treated lumber. Redwood post caps are generally the most expensive. Copper-topped post caps are very popular. Wooden post caps can be treated with a clear sealer to preserve the natural wood while protecting it from the elements. They can also be painted or stained.
Standard sizes of post caps range from 3.5" x 3.5" to 6" x 6", but custom sizes are available. We can make a post cap to fit any fence need you need to fill.
All post caps are either "slip-over" or "non-slip-over". This terminology refers to how the post cap is affixed to the post end. One advantage of slip-over post caps is they can cover damaged and uneven cuts on post ends. The non-slip-over style sits atop the post, providing less of a cover for the post end. 3M Marine Adhesive/Sealant 5200, a high-performance polyurethane adhesive/sealant, is an excellent product for attaching post caps to posts. The post caps can also be pre-drilled and affixed using stainless steel screws. Exterior caulking material can be applied to the base around the post cap to ensure a tight fit.
Most any style of post cap is available with one of three styles of molding: Island, Federal, and Backstreet. This can be confusing because there are also post cap styles named Island, Federal, and Backstreet. The molding provides a decorative band underneath the post cap. Usually, non-slip-over post caps don't have molding. All three styles of molding are also available with dentil treatment. Dentil molding offers a series of closely spaced, rectangular blocks cut out of the molding.
Many of the flat-topped, slip-over post caps are suitable for finials to be attached. Decorative finials are available in many sizes and styles. Finials do not ship attached to post caps. They are attached after the post cap is affixed to the post. All finials must have a proper exterior sealer, paint or stain applied prior to installation to prevent cracking. All surfaces, especially the underside should be coated with some type of preservative.
When choosing post caps:
1. First select what style and size of cap you would like
2. Select from one of the three molding types
3. Select wood type for the post cap
4. Select a finial, if desired